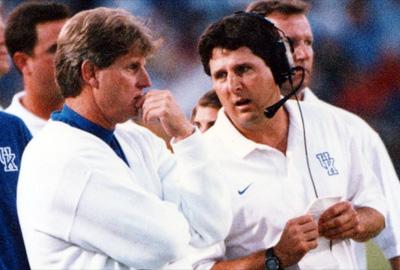 Are you a ground and pound offensive team that wants to go to the Air Raid offense? Do you want to learn how to perfect the Four Vertical play? Do you want to learn the secret to unlocking the power behind the Y-Cross concept? Have you ever want to learn the Air Raid offense so bad that you've flown out Hal Mumme to teach it to you?
If you've answered 'yes' to any of those questions then this is the interview for you.
In today's episode of Talking Football with Coach McKie I'm talking with Coach Patrick Taylor. Coach Taylor has been a student of the Air Raid since 1998. He's learned the In's and Out's of the system from the Godfather himself - Hal Mumme.
You'll learn from this episode:
How Coach Taylor convinced his head coach to change offenses.
How Coach Taylor flew in Coach Hal Mumme to install the Air Raid.
One little change to the Y-Cross concept that supercharged the concept.
How Coach Taylor teaches his quarterback how to read defenses.
How Coach Taylor lets his quarterbacks call plays.
Thanks for Listening!
To share your thoughts:
To help out the show:
Leave an honest review on iTunes and Sticher. Your ratings and reviews really help and I read every single one.
Show Notes: